WELCOME!
Glad you came to visit my web site and hope you find something that appeals to you.
ABOUT ME
My name is Alise Duerr and I live in Merritt Island, Florida. I have been happily married to Bob, my
husband of 40 years, and have 4 grown children and four granddaughters. I have been a crafter since
I was young. I tried every kind of craft that was out there. About 25 years ago, I took an evening
class in decorative painting and was hooked right away. Since then I have designed, been published
and teach at home and in studios. I hope to start travel teaching in the near future too.
Feel free to e-mail me at Alise521@aol.com, even if just to chat!
One of my greatest thrills was teaching at the SDP National convention in Peoria and at the
Houston Art Expo. Thanks to those who took my classes there!
THANKS
Words alone cannot express what the following people have meant to me -
My hubby, Bob: The love of my life and the best friend and partner anyone could want.
My children Matt, Amanda, Caryn and Alan: They laugh at Mom's obsessions but I know they are secretly
proud of my accomplishments. Special thanks to my daughter Amanda for helping create my web site.
Many people can become a success in life alone but it is so much better to have a support system - I love you guys!!
"Garth"
an original drawing with colored pencil of my daughter's beagle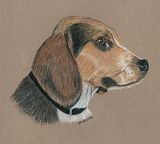 ---
I am featured in The Interactive Artist Magazine June/July 2017 Issue!
http://www.interactiveartistmagazine.org/